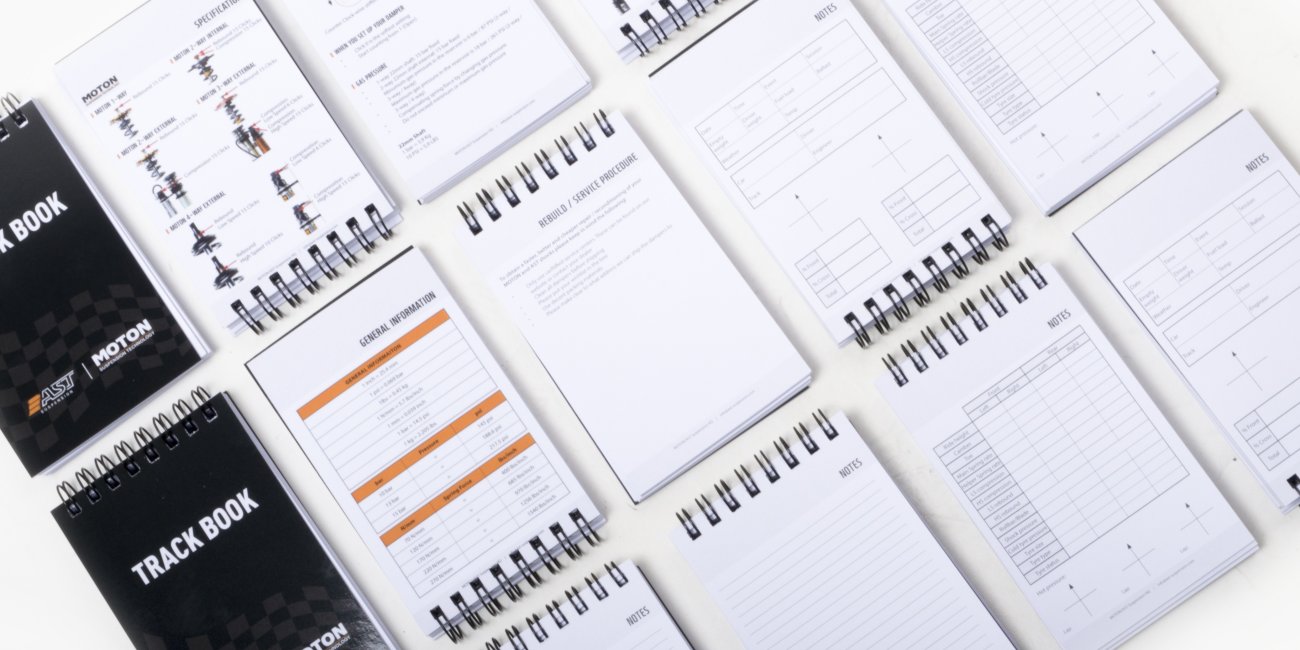 AST MOTON Suspension
North America - Distribution News
1. Registration
The trackbook is convenient to use to register how the car was setup in last winning race or how it was setup when it was performing amazingly in the rain.. knowledge is king, but if you don't register that knowledge, its a waste of time and effort.
2. Adjustment procedures
Even though the information on how to adjust your kit is with the kit, people tend to forget it. They haven't brought the paper to the track or don't know where to find it online. All this information is written in our trackbook. This is bundled all together in this single trackbook that is usefull for AST and MOTON suspension. From AST 5100 to MOTON 4-way, its all noted in our trackbook.
3. Calculations and conversions
In different parts of the world people use different ways of measuring or registering. This is one of the reasons why we have setup a nice table that can be used to easily calculate Inches to Centimeters,Psi to Bar and N/mm to Lbs/Inch. These are all factors that come into play when setting up a racecar properly. I will help you to understand others what they are doing so you can compare their setup to yours.
4. Compare data
Compare your trackbook with other team members and other drivers that are using the same trackbook as you! We can all learn and benfit from eachother. What suspension settings is your teammate using and how can you lift the complete team to the next level and beat the other team or competition!
5. Build manual
When building a race car, clubsport car or car you want to use for spirited driving, you need certain features on the car that you can control. We are talking about camber plates, adjustable control arms, uprated MOTON or AST dampers and many more things you can easily forget. This Trackbook is also a manual that makes sure you don't forget any of those chasssis features you need on your car!
Find out more about AST MOTON Suspension on our website.