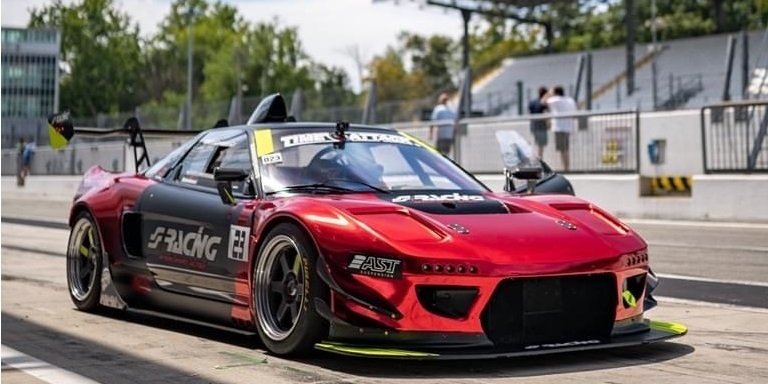 NSX Project: The "Zero" on 4 wheels
The most extreme customization of Simoni Racing, in collaboration with the best brands in the industry. Enjoy a preview, before find it on the best tracks in Europe!
Simoni Racing NSX Project debuted in November 2015 at the legendary Monza circuit, the Team AP Motorsport famous for its "race" projects that describes the project: "We started from the concept of the aircraft "zero" that at the time of the Second World War was considered the best fighter in the world; his fame comes from the fact that combined excellent handling at very high fuel range economy.
The chief design engineer of the time believed that the requirements could be met only by making the aircraft as light as possible; It was so applied every method available to save weight, and that's exactly what we did.
We have worked towards one direction: make the car as light as possible... and fast obviously! "
How its made
The starting point chosen for the Simoni Racing project is a Honda NSX 1993.
When the NSX was developed for the first time, the objective of Honda was to achieve the performance of noble European sports cars and also to approach them in the aesthetic style, especially the Italian's.
The NSX was supposed to unravel many of the technical solutions from the program Motorsport Honda and in fact was the first production car with innovative technical solutions: the chassis, suspension and car body made entirely of aluminum.
After studying the style and performance of Ferrari and Lamborghini the engineers planned the Honda NSX looking for a perfect balance between power use and reliability, which is why they produced a powerful naturally aspirated engine with VTEC technology.
The main resource of Honda, however, was the pilot Ayrton Senna, which at the time had already won three championships in Formula 1, which convinced the engineers to stiffen the chassis.
The body of Simoni Racing NSX project has been completely replaced with the wide Rocket Bunny body kit and brought to a total width of 192 cm at the rear, it was fully-wrapped with Simoni Racing film "Chrome RED" here was born her name #Rossana.
Frontally stands out the hood, made in a single piece with the bumper, the hole in the center is the access to the fuel tank, which is also fully reconstructed and housed between the front suspension for a better balance of the weights.
All windows, including the windshield, have been replaced by lighter Lexan. The chassis has been cutted in the rear of 20 cm because Rocket Bunny wide body required.
On the back stand out the tail lights, are completely reconstructed using technology LED by Simoni Racing, and the big carbon wing to give the down force necessary for the rear wheel drive car. The engine wiring harness and race electronics was mapped by Evosystem uses the standard engine with six-throttle air intake body driven by Drive by Wire system, with a custom exhaust that makes a creepy sound.
The exhaust sound is important and when accelerating from a standstill, at the closure of the throttle, the intake sound effect recalls the real race car of the 80's.
Finally the RAYS forged wheels feels comfortable staying in 4 Slick Pirelli P zero that have grip to sell.
Driving sensations
It's a car crafted for the track with a setting of extreme driving, very low. Everything is all around you with minimal center console, few buttons allows the switching on and switching off the engine and headlights, also a nice "knob" allows the selection of 3 engine maps for the ideal use in every situation.
When you are seated the view is limited in the front, but the rear visibility is next to nothing, so the installation of a back view cam has solved every absence.
A car that everyone turns to see. Is impossible not to notice it because with its soft contours hypnotizes you and with its sound reminds that besides being beautiful, but also terribly fast.
Driving it is like freeing a wild animal from the cage.
No need to say more: just have 415 horse power on a car that weighs just 1000 kg, completely free of controls, has direct and perfect steering, it requires great caution and is mandatory firmly grip on the Simoni Racing steering wheel "X2 Competiton" with two hands since it tends to follow the trend of the asphalt. We're talking about pure driving, old racing stuff, for real drivers only.
Final conclusion
Our driving experience onboard the Simoni Racing NSX was short but very intense.
Aesthetically it is a beautiful drive and success in all respects, some would argue the design of the rear lights defining abnormal, but we genuinely liked.
To drive is just as extreme and pleasant but must pay due attention because it is a car that wants to be driven. So always firm hands on the steering wheel and attention!
The vehicle to achieve this weight / power ratio of primacy, was built with the highest quality materials, such as carbon and aluminum, which gives it the dynamic qualities of the first class.
The standard transmission modified with short gears ensures quickly shifting while the 3000 cc engine provides plenty of power available immediately. AST Suspension and big rotors AP Racing brakes, adapted to "bite" the asphalt, are a complete package able to appreciate every kind of track.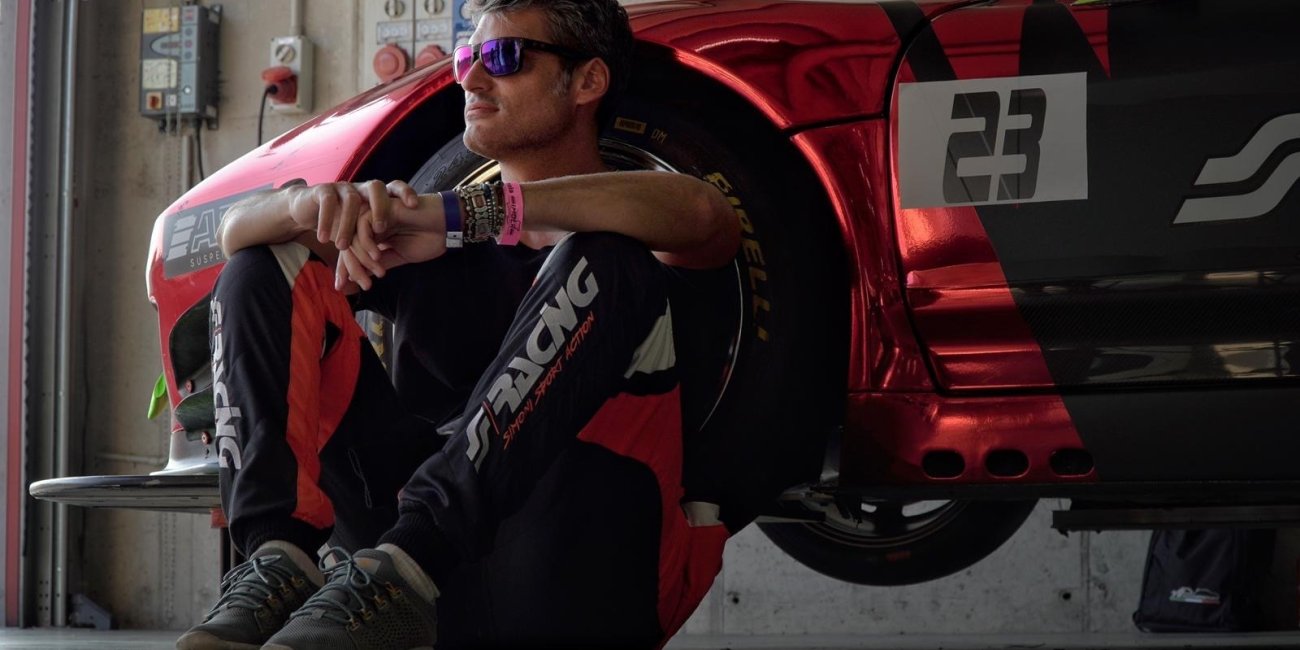 Alan sitting next to Rossana
The driver
Word of one person who has spent 12 years on tracks around the world competing in the more famous one-make championships. Alan Simoni in recent years has improved his driving skills by adapting to different types of cars discovering all the variables that contribute to achieving the perfect lap, which he reveal whispering "does not really exist"
NSX spec list
Simoni Racing NSX ProjectMax Power: 415 hp @ 8000 rpm
Max Torque: 40 kg*m @ 6750 rpm
Weight: 1000 kg
Engine:
Honda C30A 3.0L DOHC VTEC V6, Brian Crower Stroker Kit 3,5L, CP Carrillo aluminium forged pistons, titan connecting rods, Honda Racing bushings PINK, bigger titan intake valve and inconel exhaust valve by AS Motorsport, titan LMA Kit by Science of Speed, Air Intake Six-Throttle 48mm Body system with Evosystem Custom Drive by Wire Throttle Control, Evosystem ECU Life Racing F88RS, Science Of Speed Headers, Simoni Racing Exhaust Insulating Wrap, custom exhaust system with Simoni Racing Exhaust Mufflers, SAMCO Sport Silicone Radiator Hose kit, front Oil Cooler kit with bigger Setrab radiator, Oil Pan Baffle, Koyo Aluminium Radiator, ergal RF Yamamoto Pulley, Kevlar Timing Belt, 750cc Injectors, Lightweight Battery kit, High Pressure Fuel Regulator, Twin Bosch 044 Fuel Pumps, Front Custom Fuel Tank 35L, NGK Racing Plugs (Audi R8), Compact Ignition Coils BERU for Audi R8, Toda Racing cams and pulley, bigger oil pump custom by Autotecnica Motori
Driveline:
Factory 5-speed Gearbox Manual Transmission, OS Giken Super Lock LSD / 4.44:1 Final Drive Gearset, Honda JDM Short Gearset, Exedy hyper single plate Clutch with Lightweight Flywheel, Science Of Speed Clutch Damper Delete kit
Suspension/Brakes:
AST Suspension Coilovers 3-way, AST AirJacks, Science Of Speed Toe Links and Rear Beam Bushings, Cedar Ridge Front Pivot Clamps, Science Of Speed Adjustable Anti-sway Bars front/rear, Cedar Ridge Sway Bar End Links front and rear, Bushings Camber kit correction front and rear, AP Racing Pro 5000 R 4-pot front & 4-pot rear Calipers, 2 pieces Slotted Floating Discs 330x28mm front, 328x28mm rear
Wheels/Tyres:
Volk Racing TE37V forged 17"x9.5J ET15 front / 18"x10J ET0 rear, Pirelli PZero slicks 240/65 R17 front, 250/65 R18 rear
Interior:
Full FIA Roll Bar Cage, Simoni Racing FIA Bucket Seats with Brackets, custom Carbon center Console, Simoni Racing SET Shift Knob, Simoni Racing Six-Point FIA Harnesses, Simoni Racing Defender Shammy Leather 350mm Steering Wheel, Simoni Racing Quick Release, Simoni Racing Hub kit, Digital Dashboard Plex Tuning Display color Logger with GPS, OMP Steel Hand Held Fire Extinguisher, Tilton 3 Pedal Floor mount 600 series Drive by Wire with Remote Brake Bias Adjuster , Simoni Racing Rear View Camera
Exterior:
Full Rocket Bunny body conversion: Front Hood Conversion, Front Lip Spoiler with splitter, Twin Front Canards, Side Skirts, Side Canards, Rear Fenders, Rear Bumper, Simoni Racing carbon GT Wing, Simoni Racing Red Chrome Wrap Film, Route KS GT Air Intake Scoop, Kite Rear Fender Side Ducts, Simoni Racing front Tow Strap, Simoni Racing rear red ergal tow ring, Plastics 4 Performance full Lexan Window kit, Craft Square carbon fiber Side Mirrors, Simoni Racing LED Tail Lights, Seibon carbon fiber Doors.
Photo's by: @officinadelpilota
Find out more about AST MOTON Suspension on our website.
https://motonsuspensionusa.com/